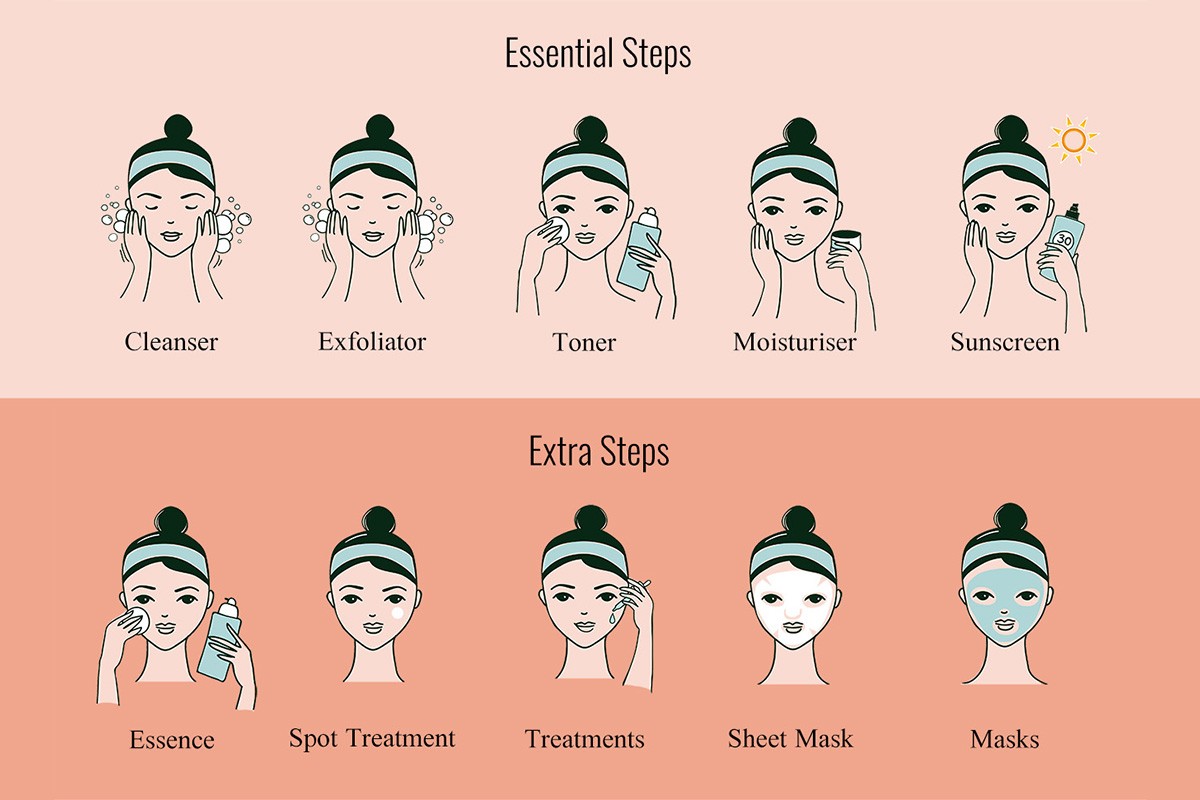 Why do Koreans have such luminescent porcelain skin? Why is their skin so radiant and bright? What are they doing to their skin that has shaken up the beauty industry so much that leading brands in the West are taking note and following the trends of Korea?
The answer is simple, and it all boils down to one word. Routine. Follow the K-beauty routine and you will be well on your way to achieving complexion perfection. There are lots of myths surrounding their routine but have no fear, we are on hand to break it down for you and help you every step of the way.
You may have heard of the 10-Step Korean Routine and the 5 Step Routine. Both bring its own benefits and the beauty (excuse the pun!) of it is that you can customise it to suit your specific skin concerns. The heart of Korean skincare is about listening to your skin and creating a routine which truly answers your skin's needs.
If skin is feeling dehydrated, you may feel the need to use all 10 steps at times, but many Korean skin experts believe that the 10 steps are to be used across the week for maximum benefits rather than every day.
Today we're going to go through the 10-step routine. Ready? Let's go!
STEP 1. CLEANSE
Korean beauty users typically double cleanse morning and evening. Using an oil cleanser will melt oil-based impurities such as makeup, excess sebum, SPF and pollution without the need for harsh tugging at the skin.
Next step use a foaming or a non-foaming water cleanser to dissolve water-based impurities such as sweat and dirt.
Since water and oil don't mix, using an oil cleanser and a water cleaner will ensure that your face is completely clean and ready for step 2.

STEP 2. EXFOLIATE
Koreans use a gentle physical/chemical exfoliator 1-2 a week so that dead skin cells which have accumulated on the surface are sloughed away revealing brighter smoother skin. Regular exfoliation benefits all skin types as it increases cell turnover and unclogs pores allowing for better absorption of products. Skin is youthful and radiant. Those prone to acne though should avoid physical scrubs and opt for products containing AHA/BHA's as their mode of exfoliation.

STEP 3. TONER
Toners restore your skin's pH balance, hydrates and preps it for the nourishing goodness which is to come in the form of skin boosting treatments.

STEP 4. SPOT TREATMENT
Acne prone skin can choose to use specific treatments targeting those pesky blemishes. Use a power liquid directly on the spot or a discreet transparent pimple patch.

STEP 5. ESSENCE
Essences have caught on recently in the West but have been used for years in Korea. Think of them as being halfway between a toner and a serum in consistency. Thicker than a toner but thinner than a serum. They are composed of carefully formulated anti-ageing and complexion-enhancing ingredients bringing hydration and nourishment to skin.
By using an essence, the benefits of the next step of treatments are taken to their fullest potential.

STEP 6. TREATMENTS: Serums/Ampoules
Treatments come in the forms of serums and ampoules. They are considered highly concentrated forms of active ingredients which target specific skin concerns such as hyperpigmentation, fine lines, dehydrated skin, loss of elasticity. You name it, there is a treatment for it.

STEP 7. SHEET MASK
Like serums, sheet masks contain a high concentration of active ingredients which are infused in a thin cotton, cellulose or Tencel material bringing the ultimate skin perfecting ingredients in direct contact with your skin for 15-20 mins allowing for maximum absorption and results! Sheet masks can be customised to your skin's requirements. Feeling dehydrated one day? Sorted! Want brighter skin for an up-coming event? Done!

STEP 8. MOISTURISER
After investing so much care in your skin it's important to lock all those nourishing goodies in! Moisturising will seal the skin and is the last step in ultimate hydration and smoothness.

STEP 9. SUNSCREEN
If there is one product which makes the biggest difference in fighting wrinkles and ageing, it's sun protection factor (SPF). Sunscreen protects skin from the damaging UV from the sun's rays (and skin cancer!). UVA is responsible for fine lines and loss of elasticity and UVB causes skin to burn. SPF protects you from UVA and UVB and in Mauritius the sun is strong! Apply only in the morning.

STEP 10. SLEEPING MASK
Often referred to as sleeping packs, these are left on the skin overnight whilst you sleep. Skin is super-charged and intensely hydrated in the morning giving you bouncy, firm skin when you rise. Don't worry about them smearing onto your pillow, they absorb very quickly into the skin penetrating deep down and delivering infinitely more moisture than a regular moisturiser.