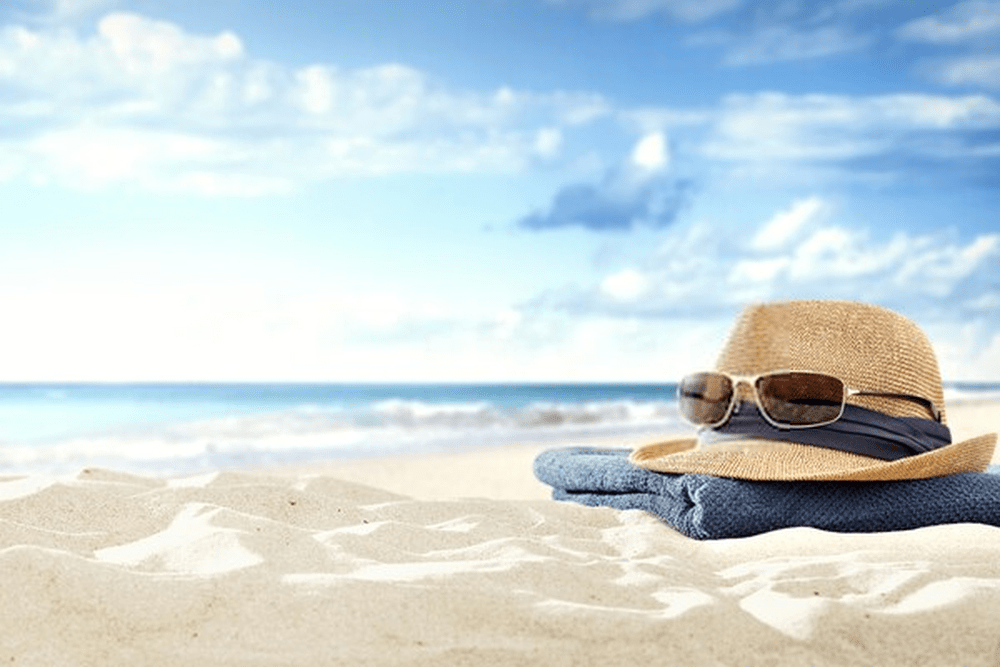 It's already November and we can already feel it in the air as soon as we step outside. The air is that little bit warmer, schools are winding down and Christmas is just around the corner- yes summer in Mauritius is fast approaching.
With summer here, we all want to cool down, be it by the beach or if we're indoors literally by ramping up the dial on that air conditioning or fan. Either way as the saying goes, the best defence is a good offence and with that we've come up with some simple tips so that your skin is a summer winner!
Summer stress? No Sweat!
TIP 1: DOUBLE CLEANSE YOUR SKIN
As the temperatures rise, our skin sweats more and sebum production starts to go into overdrive. The result-oilier skin.
It goes without saying, that using an oil cleanser is a must. The basis of oil cleansers is that "like removes like" and so using an oil cleanser like Banila Co Clean It Zero Cleansing Balm Original will lift off excess sebum, oil, waterproof makeup, pollution, grime and sunscreen.
Follow it with a water cleanser which will gently dissolve water-based impurities such as dirt and sweat. Try CosRx Low pH Good Morning Gel Cleanser or the It's Skin Have a Green Grape Cleansing Foam for clean, healthy skin all year round.
TIP 2: WEAR SUNSCREEN
The sun is very strong in Mauritius because we are within the Tropics. Therefore, it is imperative that sunscreen is worn. Sunlight is composed of a spectrum of rays of which ultraviolet (UV) is the most damaging.
UV light is made up of UV A and UV B rays. In the world of skincare, it was previously believed that only protection against UV B was necessary as UV B causes skin redness and burning. However newer research from the Skin Cancer Foundation in America has shown that UV A (which causes loss of elasticity, wrinkles and brown spots) is more damaging because it penetrates deeper into the skin causing more harm and possibly altering the DNA of skin cells. This may lead to skin cancer formation. Since 95% of UV radiation reaching us on Earth is UV A, it is even more important to select a sunscreen with a high level of UV A protection.
Just as the more commonly known SPF rating, is a measure of Sun Protection Factor against UV B rays, PA stands for Protection Grade against UV A. The more + there are, the higher the protection against UV A. Korean sunscreens are clearly marked with the amount of UV A protection. Look out for the PA +++ signs. The more + there are, the higher the UV A protection.
Select a broad-spectrum UV A and UV B sunscreen such as A'Pieu Pure Block Natural Daily Sun Cream or the CosRx Aloe Soothing Suncream
Going one step further to protect your skin from aging and dark spots is to additionally wear a wide-brimmed hat as much as possible if you are outdoors.
TIP 3: BLITZ BROWN SPOTS
Now that you're wearing sunscreen, you've got yourself covered when it comes to stopping new dark spots from forming. But what can we use to address old dark marks? Here's where the magic kicks in. Look out for ingredients which brighten and lighten the skin and fade those pesky pigmentation spots.
Niacinamide is a skin brightener which delivers results. Try Benton's Snail Bee High Content Steam Cream for a gentle yet effective way to fade hyperpigmentation. Or the D'Alba Piedmont White Truffle Intensive Ampoule which tackles dark marks head on. SNP's Animal Panda Whitening Mask is a fun and cheeky way to give an instant brightening effect to skin before a big event.
Also keep an eye out for antioxidant rich Vitamin C. This ingredient is like a booster for skin, illuminating your complexion and fading away dark marks. Try SomeBYMi's Galactomyces Pure Vitamin C Glow Serum for a burst of Vitamin C and let the light love your skin. Nature Republic's Real Comforting Sheet Mask Vitamin C is another nifty way to add Vitamin C into your routine. Sit back and allow the mask to do all the work.
AHA is an acid which stands for Alpha Hydroxy Acid. This acts as an exfoliator dissolving away dead skin cells and stimulating cell regeneration so that new skin cells are continuously formed. AHA's also brighten and awaken skin giving you an enviable glow. Try SomeByMi's AHA BHA PHA 30 Days Miracle Toner for visibly noticeable clarity to your complexion.
TIP 4: SHEET MASK REGULARLY
When you think of K-beauty the first thing that comes into most people's minds are sheet masks. Made of cotton or bio-cellulose, these thin sheets are soaked in a water or milky type essence to let quality ingredients penetrate deep into skin whilst you are resting.
Tailor your sheet masking experience to your own needs by choosing the skin concern that you'd like to address. Dryness, acne, wrinkle formation or brightening the complexion, there is a sheet mask for every and any skin issue.
Try The Saem's Sheet Masks for the ultimate luxury in sheet masking.
TIP 5: ENSURE SKIN IS HYDRATED
The heat from the sun can dehydrate skin as much as air-conditioning and sun exposure can. If skin's barrier functioning is weak, skin is susceptible to moisture-loss resulting in a dry, wrinkled and dull appearance.
Moisturise your skin well with our range of moisturisers. Look out for hyaluronic acid-the big player when it comes to hydration and ceramides which strengthen skin barrier functioning so that water loss is reduced. Try Laneige Lavender Water Sleeping Mask which floods skin with water bringing back a soothing glow and natural bounce to skin. Missha's Time Revolution The First Treatment Essence Rx is a lighter moisturiser which will bring radiance back to your face.